TL;DR
Don't believe the hype around this smartwatch. It neither functions well as a smart device, nor as a watch.
Pros

Great hardware design
Voice calling works well

Cons

Don't believe the other reviews, this is not Android Wear or currently Android Wear compatible
Doesn't integrate very well with Google apps such as Google Fit and Calendar
Missing many features provided by similarly priced competitors
There are only 8 apps in the Mobvoi app store at time of writing
Security appears lax or non-existant
Poor battery life
No published returns policy, so be sure you want one before ordering
If this watch was more Android Wear, and less Mobvoi OS, it would be great. As it stands though the Mobvoi OS, in my opinion, is enough to look elsewhere. The Huawei W1 could be a better alternative for many.
Full Review
The Ticwatch2 made a lot of noise with it's successful Kickstarter campaign that cleared US$2m.
It is a middle of the range smartwatch coming in at around the £200 mark in the UK market. It is made by Mobvoi Inc. - a Chinese startup - who seem to be getting into the voice recognition and AI spaces with their devices so far. The Ticwatch2 itself had a successful kickstarter campaign last year and so on the surface looks like a bit of a winner.
For its part Ticwatch2 talks a big game with its capabilities of built in:
GPS
Smartphone control
Activity Tracking, Heart Rate Monitor and Pedometer
Yet as you scratch beneath the surface and start to test these capabilities you notice some of the watch's shortcomings.
Note: I've reached out to Mobvoi to confirm my impressions below, though have received no response as yet. If I receive anything I'll update this post.
Lets start with the good points.
Great Hardware Design
The hardware design of the watch is actually great! I love its 36mm size, round shape and light weight and the silicone strap is better than I thought it would be.
This device actually feels like a watch, which for me is spot on.
In addition, the box the watch was delivered in had a premium feel and well thought out design.
Voice Calling
I made multiple calls using the watch as a speakerphone with no sound quality issues, it was every bit as good as my smartphone speakerphone capability.
Calls I answered on my watch seemed to fall back to using my phone by default though, I'm not sure if this is what everyone else experienced or if it was just me.
Not Android Wear
The operating system (OS) run on the Ticwatch2 is a customised version of Android, not Android Wear, and it is not currently Android Wear compatible.
As a result this watch does not enjoy the growing ecosystem around Google's push into the wearable space.
It appears as though Mobvoi have made the same mistake that SonyEricsson did when they first adopted Android for their phone lineup. SonyEricsson at that time decided to split their version of Android from the vanilla Google supported one and made lots of customisation to the internal workings of the operating system. The result was that SonyEricsson could not deliver updates as quickly as Google, and many apps available on the Google App Store had issues working on SonyEricsson's variant. Many customers - including myself - abandoned the brand based on this experience. Thankfully Sony reversed this approach quite quickly.
From the outside, the Mobvoi OS looks to be a more closed off experience than one would normally expect from an Android device. Features like search, messaging, weather, voice recognition and fitness, are all provided by Mobvoi's own applications, not their Google counterparts and the watch is the worse for it.
Mentioning a less common English name to the voice recognition will - significantly less frequently than Google - succeed. This results in needing to get out your smartphone and do whatever you wanted to do on there. Other issues I've had relate to it identifying my voice, often it cuts me off mid sentence, then other times background noise keeps it engaged too long. This could be overlooked if an onscreen keyboard was available, but for some reason it is only accessible when inputting a WiFi password.
Asking for today's news will only bring you American news sources such as FOX, Huffington Post and New York Daily News, which is totally useless for anyone not living in the USA.
Poor Integration
Even though some options are given to "integrate" with services like Google Fit, that integration is not sufficient to be useable.
A very basic example of this is the pedometer function of the watch.
In my experience so far, the pedometer over-inflates the number of steps you have taken about 1.5 times under normal use. Under other uses, such as pushing a trolley, it registers no steps due to being wrist worn. However, my smartphone in my pocket IS registering steps when I push a trolley. Predictably, the step count on my smartphone and the watch are nowhere close to matching at the end of the day.
Shouldn't "integration" with Google Fit include forming a consensus over how many steps I've taken between my watch and my smartphone?
A second example of this comes when setting reminders through the watch. These do appear in my Google Calender, but as meetings / events, not as reminders. This causes three outcomes:
I get a reminder 5 minutes ahead of when I set it for (as that is the default setting in Google Calendars);
I cannot snooze a reminder, I have to set a new one; and,
My calendar is polluted with 30 minute meetings that aren't meetings.
Further to this, all the watch is doing when it shows notifications is replicating the exact notifications from the smartphone it is paired to. This means it cannot show different notifications between the watch and the phone.
Lacking Features Provided by Similarly Priced Competitors
Two basic examples I've noticed so far are listed here.
Lack of Sleep Tracking
Given that we are finding out how important quality sleep is to our overall health, the decision to not implement sleep tracking in this watch is a puzzling one. Many competitors include this functionality.
No ambient light sensor
As there is also no ambient light sensor included in the device, the screen is always on.
Lack of Apps
Another Android strong point, another let down. I can literally count the number of available apps - excluding watch faces - on my hands, there are eight apps. Yes 8! These are:
Siren Mirror
TickTick
MoWeather
Travel FX
MetTic
LightIt
FTP
Siren Music
In addition there are a reasonable number of watch faces available for you to choose from. However, to install new watch faces you must install them on your phone which then copies them to your watch.
Security Vulnerabilities
To get the 8 apps that are available, you have to install the Mobvoi App Store on your phone, which then requires you to turn on the "Unknown Sources" option in security. This is a major security hole, and a deal breaker for me, as it should be for you too.
To attempt to engage with the vendor to raise some of these points I attempted to use the forum, but was not allowed to register and log in as I had apparently "exceeded the number of login attempts" (I hadn't attempted once). Then solving the CAPTCHA did not allow me to proceed any further.
More importantly than this, the website and login page are both served over HTTP: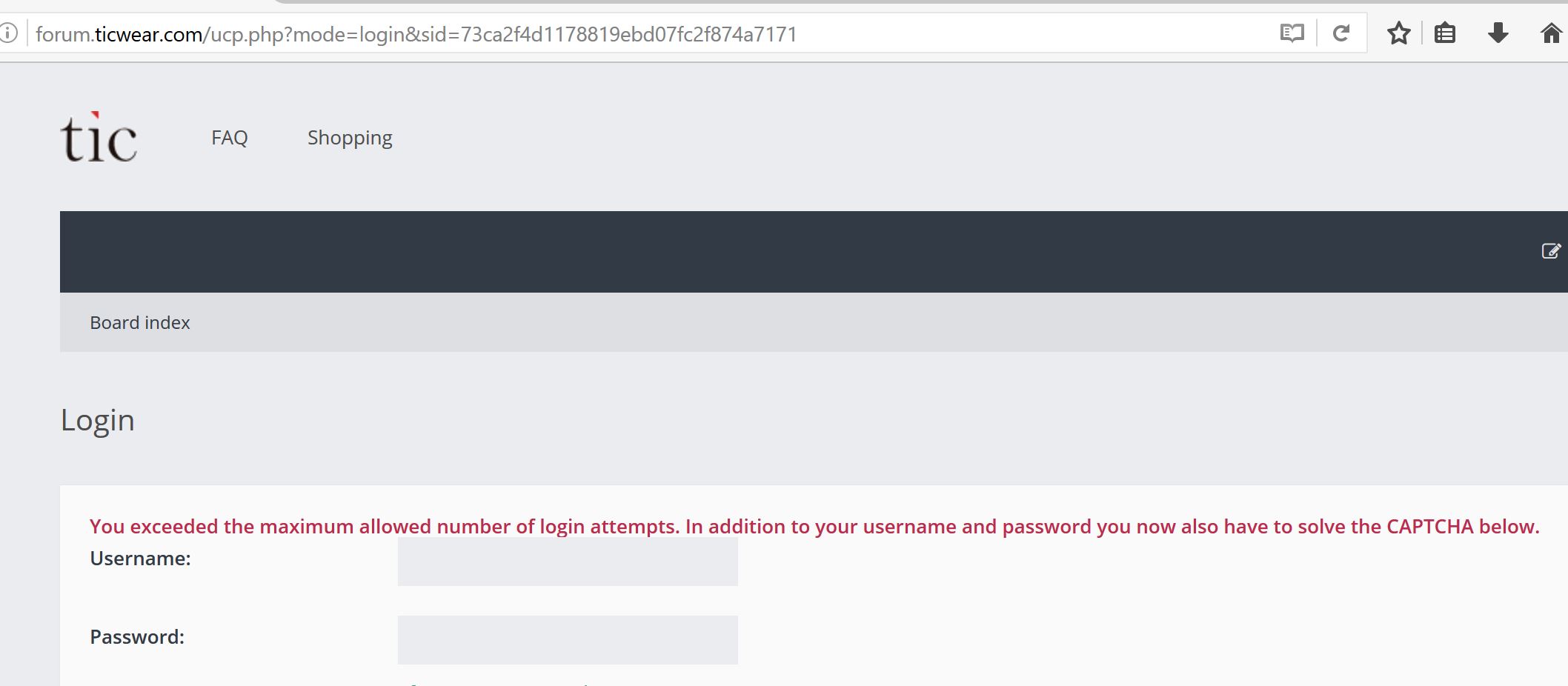 This is a HUGE security flaw as your username and password are now sent in clear text over the internet.
If your company cannot serve a simple login page over HTTPS, what trust should a consumer have that you are treating their data securely in other areas?
Battery Life
So far with moderate use, I've not managed to get a full 24 hour day out of the Ticwatch2. I so far find myself having to charge first thing in the morning, and around 3pm to get a full day. To me this is a major shortcoming to this being a useful watch.
If I barely use the watch, it lasts 24 hours - just - but then what's the point of having it?
So what's my overall opinion?
I'm quite saddened that the Ticwatch2 seems to be a lost opportunity.
From a hardware perspective it is GREAT, however it is sorely let down by Mobvoi's operating system and poor battery life.
Given that Android Wear is available, your own operating system must be significantly better to justify its existence. This is one thing that killed off Blackberry, they could not compete with the app stores that Google and Apple offered, yet Mobvoi are making the same mistake. Developers will not support your app store unless you have user volume, you won't have user volume without the apps being available.
Just accept that Google and Apple have won for now, adopt Android Wear, then build your features on top of everything that Google brings to the table. Why try and reinvent the wheel when you are already using Google Android as the base of the operating system?
I hope that over time, the OS becomes more Google and less Mobvoi.
I think for a similar price, the Huawei W1 is a more compelling proposition. It has a similar aesthetic, is slightly larger at 42mm diameter, but is full Android Wear. As a result you get all of the apps available on Google Play Store and a tight integration into other Google products that the Ticwatch2 just doesn't deliver.
Where to next?
Will I return it? Probably not. More because there is no returns policy listed, but also because I'm interested to see where Mobvoi take it. I won't be using it unless it improves drastically through software updates and I am convinced that security issues are fixed.
There is still great potential here, it's just that the operating system needs to be changed.
I'm tempted to try the Withings Steel HR which promises to be a watch first, and a smart device second. Withings as a company are more fitness based and so I would expect their tracking features to be more on point than I have found with the Ticwatch2.
All in all though I'm most likely to go with the aforementioned Huawei W1 next (or its successor), it has all of the features you could expect in a smartwatch by fully leveraging Android Wear at a pricepoint similar to the Ticwatch2.
Further note for anyone living in the UK: Ticwatch2 is delivered by Yodel.